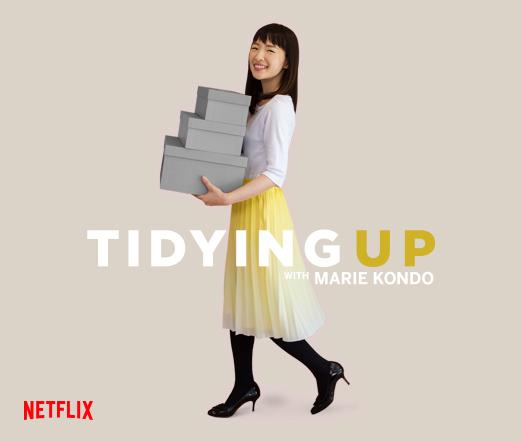 Is it just me or was that the longest January EVER? January is a tough month at the best of times, right? After the hustle and bustle of Christmas we face into a month that is dreary and slow at best. Catching up with those credit card payments or embarking on numerous new year resolutions. Just how was I going to get through mine?
Well, love it or hate it, I succumbed to the recent Marie Condo fetish of Tidying Up on Netflix? If you have not seen it already or read the book (The Life Changing Magic of Tidying Up), then, in summary, it shows a Japanese Organising Consultant working with families and advising them on how to declutter and re-organise their lives. It includes thanking items that no longer "spark joy" and sending them on their merry way to recycling. Who could imagine that folding tops to stand upright in a drawer could revolutionise our lives so much? Well…. I was willing to give it a go!
January is a great time to clear the clutter in time for Spring… be that negative emotions and habits, toxic relationships, self-limiting beliefs or simply clearing out physical clutter to focus on simplicity and invite energy into our lives.
So I decided to tackle my January and gave it the theme of Organisation a la FlexiSmart.
High on the list was to get the new version of my business website launched in February 2019. I wanted to outline my approach, showcase the services on offer and highlight some of the stories behind the great people I worked with in 2018. I also wanted to launch my newly created Discover U Career Assessment Programmes customised for individuals and students.
So here it is, launched today, and I am delighted to share it with you www.FlexiSmartCoaching.ie.
My business services are the following:
Career Coaching for Professionals
Career Guidance and Coaching for Students
Discover U Career Assessment Programmes
HR Consultancy Services for Organisations
As a Coach, helping others spark joy in their career and lives as they navigate through change is my passion. Nothing gives me greater pleasure than to see someone take that great leap to become the very best version of themselves as they embark upon and navigate through change. If you know someone who could benefit from these services, please feel to share or learn more here www.FlexiSmartcoaching.ie.
FlexiSmart Coaching – Helping others spark joy in their 2019.
"Nobody can go back and start a new beginning, but anyone can start today and make a new ending".
Maria Robinson